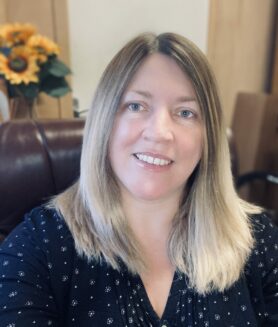 Posted on: 16th March 2021, by Magrathea
Careers at Magrathea: Donna McCallum – Sales & Support Team
Another month another Magrathea profile.  We stopped by to have a catch up with Donna who joined Magrathea way back in September 2009!
Donna is another member of our Sales and Support Team, but has many other roles too including keeping an eye on all things financial.  Donna has a background in finance and is AAT & ACCA qualified which is very useful for us.
Donna says the most pleasurable part of her role is:
"Variety is the spice of life as the saying goes and that is really what I enjoy the most about my job and being part of the Magrathea team.  Finance roles can be monotonous, but working at Magrathea I get to have the best of both worlds, working with figures but also involved in the day to day sales and support of the company.  No two days are ever the same and there is no time to be bored whilst working here!"
With Donna in her 12th year at Magrathea she has seen a lot of change.  The company has grown in terms of staff numbers, network and capacity.
Donna finds it very satisfying being able to resolve client's queries and issues and enjoys assisting her fellow colleagues to deal with any queries and being a 'valued' member of the team.
"This year just gone has been the most challenging due to Covid, however we have all taken it in our stride and shown how well we all pull together as a team".
Being a mother of two tends to keep Donna pretty busy outside of work, however she does enjoy listening and dancing to music (mostly round the kitchen during lockdown!).  When Donna is not dancing you'll find her out exploring the countryside taking their lively Hungarian Vizsla on walks.