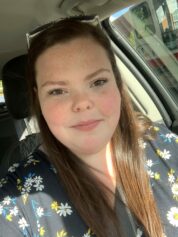 Posted on: 19th July 2021, by Magrathea
This month we spoke to one the newest members of the Magrathea team. Astyn joined Magrathea at the beginning of December 2020 while we were in lock down. We caught up with Astyn to find out how she has found joining a company during a pandemic.
Astyn works in our Sales and Support team who take part in, and often manage, a wide variety of projects to contribute to the smooth running of the business. The team act as the first line of contact for any client seeking support or sales assistance. Another key function is to manage and resolve any faults.
Astyn says:
'The thing I enjoy the most about my job is that everyday is different.  I love this industry as technology is constantly evolving so there's always new things to learn which means you never get bored.  I am also so lucky to work with such kind and knowledgeable people that really put the time in to help me learn and progress'.
At the moment, Astyn can't wait for life to get back to normal! Astyn mentioned it's been difficult starting a new job during the pandemic and there are lots of people she still hasn't met face to face and is looking forward to the day we can go back into the office.
Astyn has found that even in the short time she has been with Magrathea, there have been a lot of changes. Specifically, the technical and development team are constantly improving the systems we use day to day. This has already made processes easier and she is excited to see what the future holds.
'There is a side to the role that can be very technical and sometimes it can take a lot of time to get to the bottom of a problem. But when you do and figure out how to resolve the issue, there is no better feeling. I feel like a detective that has cracked the case!'
Astyn lives with her Fiancé and two house bunnies that keep her very busy. She's excited to start going out more with friends as everything opens up again. She also loves the West End and already has one show booked for this year and can't wait to see more in the future.